The Lunar Chronicles, sometimes abbreviated as TLC, is a young adult series of science-fiction novels written by American author Marissa Meyer. The official site can be seen here.
Plot description
Edit
The series revolves around
Linh Cinder
, a
cyborg
who worked for her stepmother
Adri
. Her unique makeup, combined with her
adoptive father
's inventions in cybernetics, allowed her to become the best mechanic in
New Beijing
at the tender age of sixteen. Her talents became so widely known that one day the crown prince,
Prince Kai
, brought his android,
Nainsi
, for her to fix, and while he tried to make light of the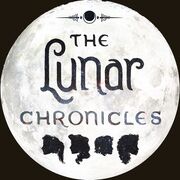 subject, it became apparent that it was a very serious matter. As the prince and mechanic grew closer, the harsh truth tore them apart.
Novellas
Edit
Foreign editions
Edit
Publications rights to The Lunar Chronicles are sold to the following territories:
| Country | Title of series | Publisher | Translator | Cinder | Scarlet | Cress |
| --- | --- | --- | --- | --- | --- | --- |
| Brasil | As Crônicas Lunares | Rocco | Maria Beatriz Branquinho da Costa | 2013 | 2014 | x |
| Bulgaria | Лунните хроники | Егмонт България | Кристина Георгиева | 2014 | 2014 | 2014 |
| Catalonia | Cròniques Lunars | Estrella Polar | Aïda Garcia Pons | 2012 | 2013 | x |
| Croatia | | Algoritam | | | | |
| Czech Republic | Měsíční kroniky | Egmont | | 2012 | 2013 | 2014 |
| France | Chroniques lunaires | Pocket Jeunesse | Guillaume Fournier | 2013 | 2013 | 2014 |
| Germany | Die Luna-Chroniken | Carlsen | Astrid Becker | 2013 | 2014 | 2014 |
| Greece | τετραλογία της Σελήνης | Εκδόσεις Πατάκη | Αλέξης Καλοφωλιάς | 2013 | 2013 | x |
| Hungary | Holdbéli krónikák | Alexandra | Bujdosó István | 2012 | 2014 | x |
| Israel | | Kinneret | | | | |
| Indonesia | | Haru | | | | |
| Italy | Cronache Lunari | Mondadori | Alessandra Sogne | 2012 | 2013 | x |
| Japan | The Lunar Chronicles | 竹書房 Take Shobo | 林 啓恵 | 2015 | x | x |
| Korea | 루나 크로니클 시리즈 | 북로드 |  ? | 2012 | 2013 | 2014 |
| Latin America | | V&R Editoras | | | | |
| Norway | | Schibsted | | | | |
| Poland | Saga Księżycowa | Egmont | Dorota Konowrocka | 2012 | 2013 | x |
| Portugal | Crónicas Lunares | Planeta | Victor Antunes | 2012 | 2013 | 2015 |
| Russia | Лунные Хроники | ACT | А. Чертова | 2014 | 2014 | 2015 |
| Serbia | | Laguna | | | | |
| Spain | Las crónicas lunares | Montena | Laura Martín de Dios | 2012 | 2013 | x |
| Sweden | Månkrönikan | Modernista | Lena Karlin | 2012 | 2013 | 2015 |
| Taiwan | 月族 | 核心集團 | 崔容圃 | 2014 | 2014 | 2014 |
| Thailand | ปกรณัมแดนจันทรา | Muse | ลมตะวัน | 2014 | 2014 | 2015 |
| The Netherlands | De Lunar Chronicles | Manteau | Sandra C. Hessels | 2012 | 2013 | x |
| Turkey | Bir Ay Günlüğü Kitabı | Artemis | Beril Tüccarbaşıoğlu Uğur | 2015 | 2015 | 2015 |
| Vietnam | Công Chúa Mặt Trăng | Hoa Học Trò |  ? | 2015 | 2015 | 2015 |
Works in the The Lunar Chronicles series